Annual conference CCCP-2022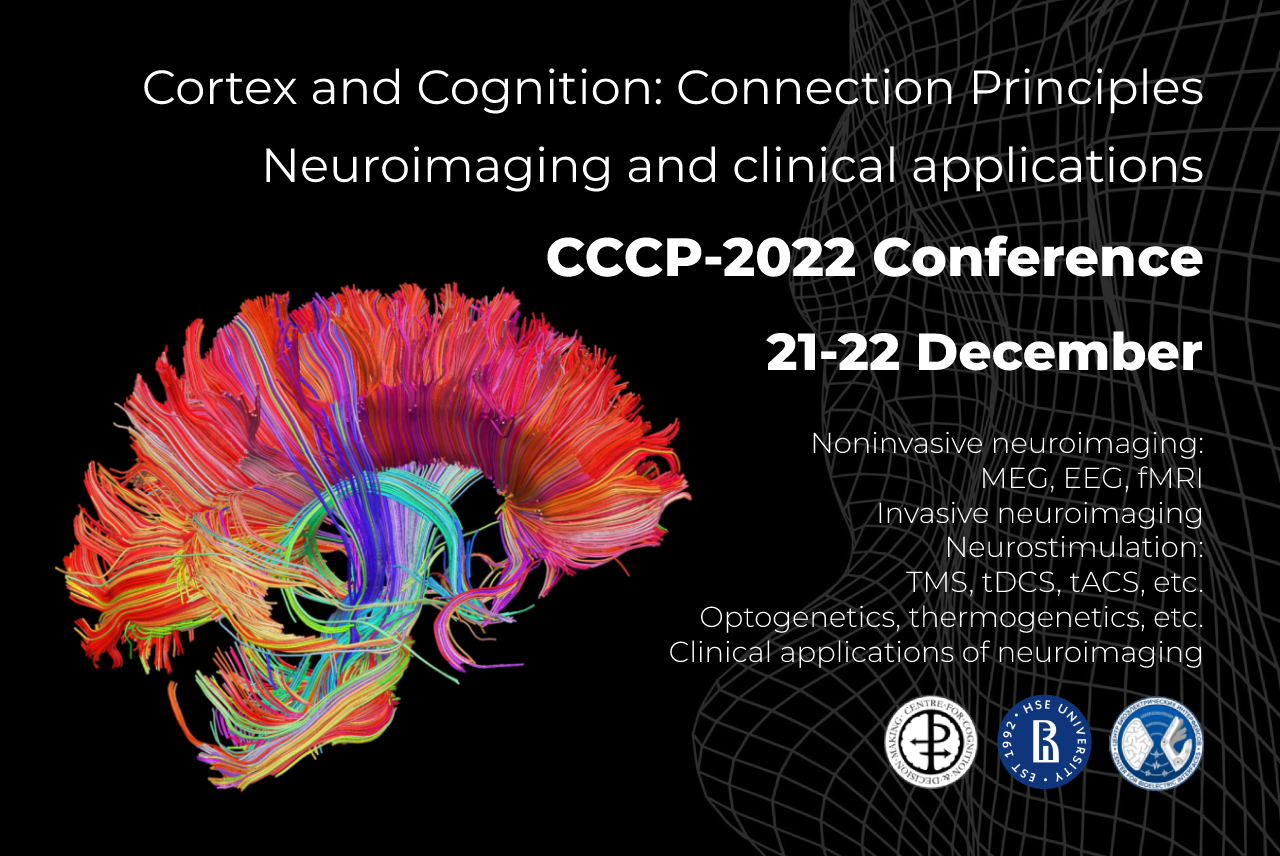 Institute for Cognitive Neuroscience invites applications for the annual conference CCCP-2022: Cortex and Cognition: Connection Principles. Neuroimaging and clinical applications (CCCP-2022).
The conference will be held 21-22 December 2022.
Conference will be held in mixed format (online and offline)
Language: English
Suggested topics are:
- invasive and non-invasive methods of brain mapping (MEG, EEG, fMRI),
- stimulation (TMS, tDCS, tACS),
- optogenetics,
- thermogenetics,
- clinical applications of neuroimaging
- etc.

Abstract submission is open until 11.12.2022 following this link.

Any further questions can be addressed to the organizing committee at:
eliana98@mail.ru (Eliana Monakhova, telegram @eliana_tonight), aossadtchi@hse.ru (Alexei Osadchiy)
December, 21

9.50

Opening, greeting words

Alexey Ossadtchi (HSE)

10.00 - 11.00

Instantaneous neurofeedback technology (iNeurofeedback): motivation and instrumentation

Alexey Ossadtchi (HSE)

11.00 - 11.30

Phase-targeted auditory stimulation in non-rapid eye movement sleep as method to non-invasively boost slow-wave activity

Elena Kruglyakova (Zurich, Switzerland)

11.30 - 12.00

Neurofeedback for the motor reaction time manipulation

Vladislav Aksiotis, Nikita Fedosov (HSE)

12.00 - 12.30

Neuropsychological correlates of adaptive estimation of response preparatory period duration in choice reaction time task

Alexey Tumialis (FСBN FMBA)

14.00 - 14.30

Heart-brain interaction in feedback processing

Maria Azanova (Leipzig, Germany)

14.30 - 15.00

Registration and analysis EEG for psychodiagnostics: mistakes review

Olga Bazanova (MPhTI)

15.00 - 16.00

Regulation of positive-social emotion networks using connectivity-based functional MRI neurofeedback, implications for major depressive disorder

Yury Koush, (New Haven, USA)

16.30 - 17.00

Invasive bidirectional brain-machine interface

Elizaveta Okorokova (Chicago, USA)

December, 22

10.00 - 11.00

Non-invasive marker of brain activity in understanding neurodevelopmental disorders

Olga Sysoeva (RAS, Moscow)

11.00 - 11.30

Intracranial EEG for passive speech mapping in patients during neurophysiological monitoring and awake surgery.

Alexey Voskoboynikov (HSE)

11.30 - 12.00

Fast automatic detection of interictal spikes and their localization in patients with epilepsy

Daria Kleeva (HSE)

12.00 - 12.30

Quasi-Movements and Quasi-Quasi-Movements: what can they tell us about the border between physical and mental actions?

Artem Yashin (MEG Center, MSPPU)

12.30 - 13.00

The influence of menstrual cycle on the indexes of cortical excitability

Vladimir Djurdjevic (HSE)

14.00 - 15.00

Synolitic graph representation of multi-dimensional data

Alexey Zaikin (London, England)

15.00 - 15.30

Multivariate temporal response function for M/EEG data analysis

Egor Levchenko (London, England)

15.30 - 16.00

TMS for research and modulation of motor system: approaches and challenges

Maria Nazarova (Boston, USA)

18.15 - 18.30

Closing remarks

Alexey Ossadtchi (HSE)
Have you spotted a typo?
Highlight it, click Ctrl+Enter and send us a message. Thank you for your help!
To be used only for spelling or punctuation mistakes.