We invite you to the seminar held by B-Rain Labs LLC, ITIS KFU
October 21, 2021, 11:00 - 12:00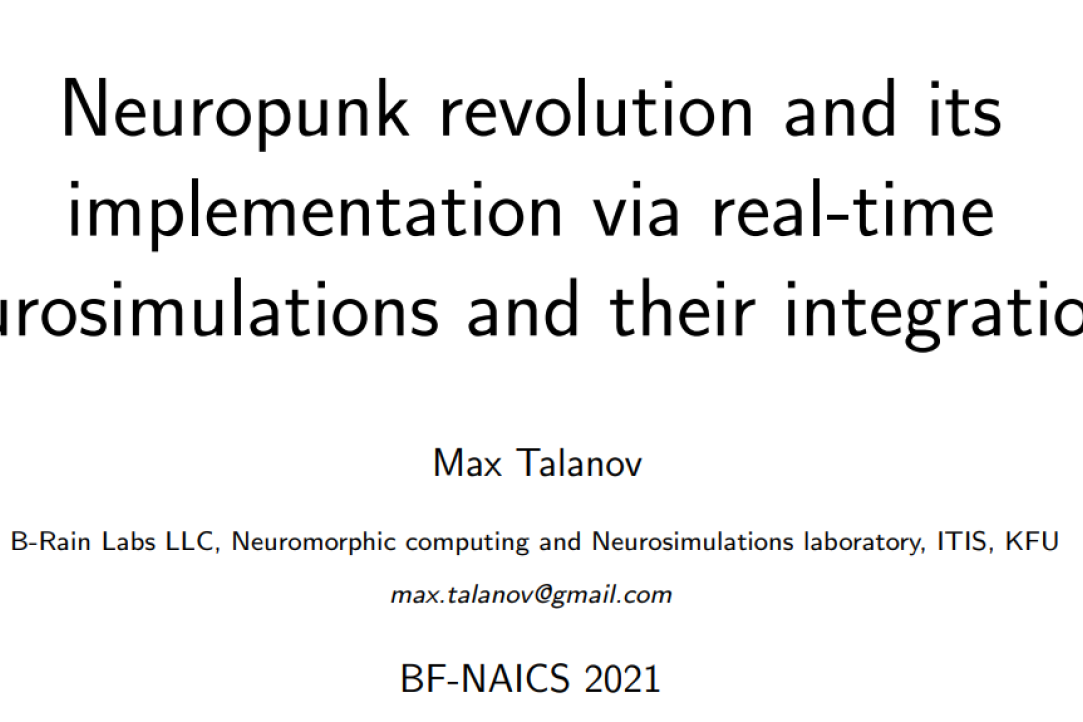 In this seminar I present the perspectives of the ``neuropunk revolution'' technologies. One could understand the ``neuropunk revolution'' as the integration of real-time neurosimulations into biological nervous/motor system via neurostimulation or artificial robotic systems via integration with actuators.
I see the added value of the real-time neurosimulations as bridge technology for the set of developed technologies: BCI, neuroprosthetics, AI, robotics to provide bio-compatible integration into biological or artificial limbs. Here I present the three types of integration of the ``neuropunk revolution'' technologies as inbound, outbound and closed-loop in-outbound systems. I see the shift of the perspective how we see now the set of technologies including AI, BCI, neuroprosthetics and robotics due to the proposed concept for example the integration of external to a body simulated part of nervous system back into the biological nervous system or muscles.
Presenter: Maxim Talanov - "Neuropunk revolution and its implementation via real-time neurosimulations and their integrations"


Presenter:
Alina Suleimanova

 
- "Modeling neural circuits in spinal cord (pattern formation circuitry and pain pathway)"



Time:

 11:00 - 12:00
Address:  Krivokolenny

.3, auditorium К3-217